Good skills to put on a resume in 2022
With the economy recovering from the effects of COVID-19, good skills to put on your resume this year are skills that show hiring managers you can adapt to unexpected circumstances (like the pandemic). You also need to prove you have skills necessary for remote work (like collaboration tools and communication skills).
However, some skills are valuable for job seekers regardless of the circumstances. To help you write the best resume possible, we:
Hard skills vs soft skills
There are two types of job skills for a resume that hiring managers are looking for on your application. They're called hard skills and soft skills. It's important to include both skill types if you want to come off as a well-rounded candidate.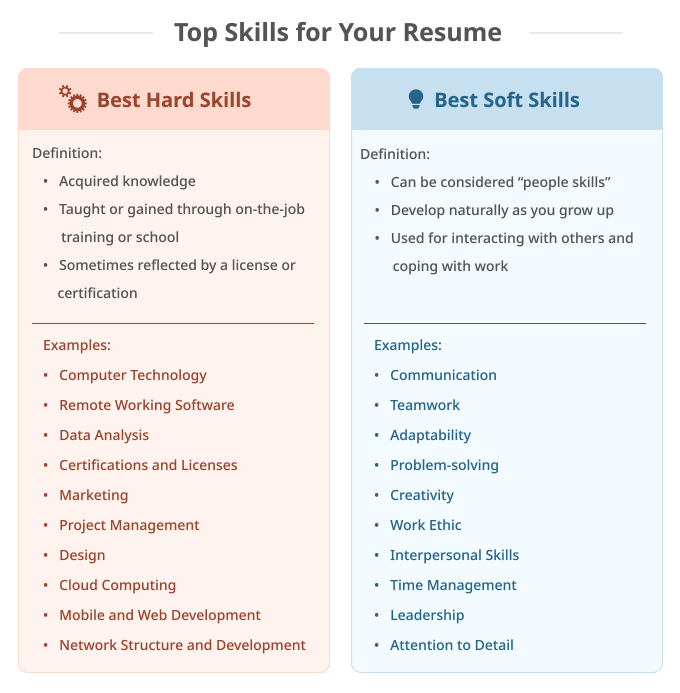 Adding hard and soft skills to your resume
It's vital to include both hard and soft skills on your resume for any given position in 2022. Employers are looking for well-rounded candidates who have the technical skills to perform the job and the soft skills to collaborate with their colleagues.
Best skills for your resume
Here are examples of the top skills (hard and soft skills) employers are seeking in 2022. Some skills apply to many kinds of jobs. If any of the following hard and soft skills apply to you, consider adding them to your resume:
Top skills to put on a resume by industry
Besides these good resume skills applicable to any job, you should add relevant skills related to your specific industry.
Administration and office support
Here are some key administrative assistant skills that can be listed on the resume of anyone working in an office. You can also list project management skills if you take the lead on projects.
Admininistrative Skills to Include on Your Resume
Hard Skills
Soft Skills
Photocopier skills
Time management
Data protection

CALoppa/CCPA
Scheduling
Computer skills
(Office)
Organizational skills
Language skills
(Spanish, Arabic, Persian)
Problem solving
Project management software

(Microsoft Project, Confluence)
Adaptable
Customer service
If you work in a call center or handle customer issues, you can add these customer service skills to your resume because they show hiring managers you're good at dealing with clients and know how to use software to track customer issues:

Customer Service Skills to Add to a Resume
Hard Skills
Soft Skills
Technical skills
(LiveChat and Blazedesk)
Problem solving
Product/service knowledge
Diplomacy
Software skills
(Kayako and Zendesk)
Negotiation
Language skills

(Spanish, French, Pennsylvania Dutch)
Patience
Research skills
Empathy
Delivery
Delivery has taken off due to the effects of COVID-19. Add some of these skills to your delivery driver resume to demonstrate your skill at handling packages and keeping to a schedule:

Delivery Skills for Your Resume
| Hard Skills | Soft Skills |
| --- | --- |
| Driver's license | Customer service skills |
| Satnav operation | Communication skills |
| Vehicle maintenance | Working under pressure |
| Recording mileage | Time management skills |
| Route planning | People skills |
Marketing
Marketing skills such as the ones listed below are perfect for marketing resumes because they show you're comfortable using common tools:

Marketing Skills to List on a Resume
Nursing
Here are some common nursing skills to note in your application to prove you can effectively care for patients:
Nursing Skills for a Resume

| Hard Skills | Soft Skills |
| --- | --- |
| Hygiene | Emotional resilience |
| Medicine administration | Critical thinking |
| Performing diagnostic tests | Bedside manner |
| Preventative care | Empathy |
| IV administration | Time management |
Sales
Sales skills (also known as sales associate skills) are vital for anyone in diverse retail jobs as hiring managers want to know you can help them keep profits up. You'll also need great cashier skills if you'll be ringing up items:
Sales Skills for a Resume

| Hard Skills | Soft Skills |
| --- | --- |
| Computer skills | Time management |
| Arranging displays | Listening skills |
| Labeling items | Diplomacy |
| Point of sales (POS) systems | Patience |
| Math skills | Interpersonal skills |
| Product management | Presentation skills |
Teaching
Include these skills in your teacher resume to show you're capable of teaching people new skills and information:
Teaching Skills to Add to a Resume
Waiter/barista
Add some of these skills to your server resume to show you're great at looking after customers and keeping orders straight:
Server Skills to Include on Your Resume

| Hard Skills | Soft Skills |
| --- | --- |
| Point of sale (POS) system operation | Salespersonship |
| Math skills | Customer service skills |
| Hygiene/OSHA | Conflict resolution |
| Menu recall | Problem solving |
| Coffee machines | Friendly demeanour |
How to find the best skills to list on your resume
Before you begin writing your resume, familiarize yourself with the hard and soft skills associated with the job you want.
The best way to identify these important job skills is to analyze job openings in your industry. Take this job ad, for instance. For your convenience, we've highlighted soft skills in green and hard skills in yellow:
In this ad, you can quickly pick out several good skills to put on your resume. This includes a range of technical skills needed for the position, as well as many soft skills that help define the best candidate for the role.
Once you've looked at several such job ads, you'll have a clearer idea of what job skills hiring managers are looking for.
How to include skills throughout your resume
Now that you know the top skills to put on a resume, use them to your advantage throughout your application.
There are three places on your resume where you can include professional skills:
Your experience section
Your resume introduction
Your skills section
Let's explore how to add skills to each of these key resume sections, and their respective benefits.
1. Include them in your resume skills section
Your resume's skills section is the main place to list your skills — and the easiest place because you only need to list the relevant skill and don't need to provide any context.
Depending on your skill-set, you should add an additional skills section or a technical skills section.
When to use an additional skills section
If you have several job-relevant hard and soft skills but don't have a highly developed technical skillset, then an additional skills section is the ideal way to highlight skills on your resume.
Just make sure the skills you choose to include in your additional skills section are related to the specific job you're applying for.
Here's what an additional skills section looks like:
When to use a technical skills section
You should use a technical skills section when you have a wide range of hard skills that are highly important to the job you're applying for. This format is especially useful in tech, where candidates are judged on their mastery of job-specific technical skills.
If you think this is the case for you, a dedicated technical skills section is the best way to feature your skills and abilities prominently on your resume.
Here's an example of a technical skills section on a resume:
Because software development work demands a special skillset, this Java developer resume begins with a technical skills section.
These technical skills are then broken down into core areas, which helps organize what would be an extensive resume skills list into easy-to-digest chunks for the hiring manager.
Some industries where a technical skills section works well are:
Information technology
Graphic design
Manufacturing
Technical writing
Engineering
Human resources (HR)
Executive level positions, like CEO
Marketing (experienced or manager-level)
2. Put them among your work experience bullets
One of the best ways to showcase your skills on a resume is by writing resume work experience bullet points that feature your greatest professional accomplishments. These bullets then show that you not only possess certain skills, but also prove you've used them to produce results for previous employers.
Simply follow these three steps and you'll be able to reinforce your experience section with skills that help you attract recruiters and impress hiring managers.
Step 1: Make a list of all your relevant skills
List every ability you feel is relevant to the target position. If you're struggling to think of any, use the job descriptions used in ads from your industry, as well as looking at LinkedIn profiles of people working in similar roles.
Once you've created your list, go through and circle all the skills that are relevant to you. These skills should be your focus.
Step 2: Create achievement-oriented bullet points
Once you have your list of skills, convert these skills into bullet points that show you produce positive results. The easiest way to do this is by using the STAR method.
Situation: First, identify an issue or responsibility at work
Task: Next, indicate what task you needed to fulfill to solve it
Action: Then, show how you used a skill to address the "problem"
Result: Finally, highlight the positive result of your "action"
Check out how a project manager used the STAR method to emphasize their communication skills:
Situation: Poor interdepartmental communication
Task: Ensuring all departments understand every aspect of a project
Action: Communicating with departments
Result: Smooth completion of the project
Then, they took this information and turned it into an achievement-oriented bullet point:
Communicated the needs and problems of 3 different departments to department heads, ensuring the smooth and timely completion of projects.
In a single bullet point, this project manager illustrates how their communication skills helped produce actual results. Use this method to prove your value and highlight skills on your resume.
Step 3: Back up your abilities with numbers
Adding numbers to your resume achievements is a great way to show exactly how you've used your skills in a work environment.
Numbers, percentages, and other concrete data give hiring managers a look into what you're capable of, ultimately making you a more appealing candidate.
Here are some examples of how to use hard numbers to emphasize the skills on your resume:
SEO/SEM marketing
Increased conversion rates by 47% on a client's web-based service offering through SEO/SEM campaigns
Data analysis
Conducted data regression analysis of the relationship between company stock prices and industry trends, achieving a 74% more accurate prediction of performance than previous years
Leadership & management
Hired, trained, and coached 47 staff members on customer service skills, food and beverage knowledge, and health and safety standards in preparation for the restaurant's July 2015 grand opening
For more relevant examples of quantification in action, take a look at a resume example from your industry.
3. Add them to your resume introduction
Hiring managers only have seconds to look at each resume.
One of the best ways to immediately grab their attention is by highlighting your relevant resume skills as quickly as possible. That's where your resume introduction comes in handy.
A strong resume summary summarizes your most valuable skills at the top of the page. This immediately shows employers that you have the base qualifications necessary for the job.
Here's an example of a strong skills-based resume introduction:
Additionally, consider adding a list of core competencies to your resume to quickly communicate your most relevant skills.
Frequently asked questions about resume skills
What are the best skills for 2022?
The best skills for resumes in 2022 are skills that make you look qualified for the specific job you're applying for. However, it also helps to take into account recent changes to how companies operate.
Showcasing your knowledge of remote working software and emphasizing that you're self-sufficient is a great way to prove to employers that you're ready for the modern workplace.
What skills should I put on my resume if I have no work experience?
You most likely developed some hard skills in high school. You can additionally put soft skills on your resume. For example:
Critical thinking
Communication
Leadership
Teamwork
Positive attitude
Assertiveness
Time management
Additionally, listing language skills on your resume (if you have any) is a great way to set yourself apart from other more experienced applicants in the U.S.
How do you organize skills on a resume?
You organize skills on a resume by listing your most job-relevant abilities at the beginning of your skills section.
Additionally, you can feature your best skills in your resume introduction to help catch the attention of employers right away.
Additional FAQs
Hard skills
Soft skills